Fees, Scholarships and Bursaries
Fees (from 1st September 2017 to 31st August 2018)
| | | | |
| --- | --- | --- | --- |
| | Year Group | Fees Per Term | Fees Annually |
| Preparatory | Reception/Infants | £3,399 | £10,197 |
| Preparatory | Years 3-6 | £4,120 | £12,360 |
| Senior/Sixth Form | Years 7-13 | £5,018 | £15,054 |
Registration fee: £100.00 (non-refundable).
Confirmation of entry deposit: £400.00 (entry deposits are set against any outstanding amounts in the final account when the pupil has left the School and the balance refunded).
At many independent schools, the cost of meals and trips can be considerable additions to the basic fees. At The Peterborough School, our fees are fully inclusive of meals as well as anything related to delivery of the core curriculum, including trips and visits, lectures and teaching by visiting experts and the majority of extra curricular activities.
For details of optional extra lessons or payable activities, please contact the School or request a prospectus.
For a prospectus and full fees schedule or a guided tour of the School, please email the Registrar, Mrs Liz Pengelly.
Alternatively, you may wish to complete the application form (found within the prospectus pack) and forward with the registration fee. Your child will then be called for an Entrance Examination into the Senior School (Year 7), other academic assessment for other Senior School year groups, or a Familiarisation Assessment in the Preparatory School.
Scholarships
The Helen Belgion Memorial Scholarship is awarded each year on the results of the Entrance Examination. It is open to all boys and girls entering Year 7 and is worth 50% in fee remission annually.

Three Music Scholarships, worth 10% of fees annually plus a weekly music lesson, are awarded each year and are open to all pupils entering Year 7.

The Hannah Warner Scholarship for creativity, worth 12.5% in fee remission annually, is awarded each year to a Year 7 pupil.

A Sports Scholarship is awarded each year and is open to all pupils entering Year 7. Sport scholarships are worth £1,000 annually towards specialist coaching, sports tours, travel or equipment costs etc, as agreed with the Bursar.

There is also a range of other academic scholarships awarded to students entering Year 7.

Woodard Scholarships are available to students who combine a strong academic performance, as indicated on entrance assessments, with clear potential in one or more of the following categories: creative arts (music, drama, dance, art), sport or leadership. Woodard Scholarships are awarded at the Headmaster's discretion to pupils in Year 7 and those joining in other Senior School year groups.

A number of Academic Scholarships are available to pupils entering the Sixth Form. Pupils will sit a maximum of two subject specific scholarship papers on a scholarship day in the November prior to the year of entry. Scholarship papers are available in certain subjects only - further details may be obtained from the Registrar. Sixth Form Academic Scholarships are also available to pupils currently attending The Peterborough School in Year 11. Scholarships will be awarded to those pupils who demonstrate outstanding academic potential for success at A Level and beyond.
Bursaries
A large family discount is available for families with three or more children at the School.
Some bursaries are awarded on the grounds of financial need; details of these can be obtained from the Bursar.
Please request a prospectus pack for more details about Scholarships and Bursaries.
Payment of Fees
Most parents opt to use our no-cost direct debit monthly fee payment plan, offered by market-leading school fee finance provider, School Fee Plan.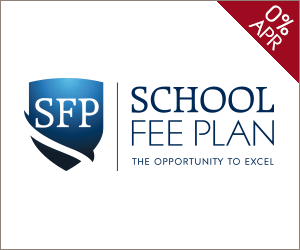 You may apply online to pay fees in monthly instalments by clicking this link https://www.myschoolfeeplan.com/ThePeterboroughSch-PE3
Please download our full Terms and Conditions from this page for further information or clarification.