Sciences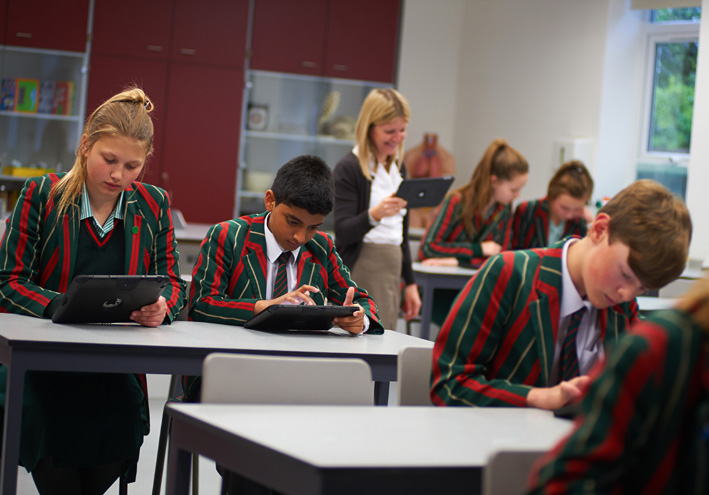 The Science Department is committed to providing stimulating and rigorous teaching to enable all pupils to fulfil their academic potential. We also aim to extend the awe of the subjects by offering a range of quality extra-curricular activities throughout all the year groups.
All the Sciences are taught by subject specialists in newly re-furbished laboratories. We teach Science in a practical, investigative way which develops pupils' scientific knowledge by nurturing their skill of analysis and enquiry.
Key Stage 3: Years 7 & 8.
The Science department have a fast track Key Stage 3, building on the strength of the incoming students from the Preparatory and primary Schools. We loosely follow the New National Curriculum with materials from the Science Works Scheme and individual written units by the department's teaching staff. The Key Stage 3 Science programme offers opportunities for students to:
build on their scientific knowledge and make connections between different areas of science;
use scientific ideas and models to explain phenomena and events;
understand a range of familiar applications of science;
think about the advantages and drawbacks of scientific and technological developments for the environment and in other contexts, considering the reasons for different opinions;
carry out investigations of different types, on their own and in groups, making use of reference sources and evaluating their work;
communicate what they did and its significance;
learn how scientists work and the importance of experimental evidence in supporting scientific ideas
Key Stage 4: Years 9, 10 and 11.
At GCSE the route which a student follows is tailored to their individual need.
In Year 9, all students are taught the first units of the GCSE AQA Science Course, which includes all higher content. Students will initially indicate if they wish to follow the Double award or Triple award route into which they are placed for Year 10.
The Double award group will complete GCSE Science and Additional Science. The Triple award group will be studying the separate Sciences. All Year 10 students complete the GCSE Science Examination.
In Year 11, students complete their studies depending on their choice of route. Throughout the three years many opportunities are given to change options based on performance and future career choice.