Taster Trips for Years 7 and 8
Each May, accompanied by members of the Modern Foreign Languages Department, Year 7 and 8 pupils have the opportunity to travel to Paris or Munich to experience a four-day residential taster trip.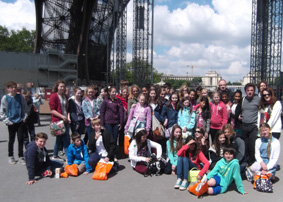 In France, the group stays just outside Paris where they enjoy wholesome French cuisine (including snails) and various activities. In addition to relaxing, the pupils converse in French and learn about the practical application of their classroom lessons: reading menus and following travel directions for example.
At the very French theme park, Park Asterix, all students practise their language skills, speaking to vendors, other children and attendans,with increasing confidence.
Seeing the sights, including Notre Dame, the Louvre and enjoying wonderful views over the city from the most popular monument, La Tour Eiffel, are all part of this wonderful experience.